Two years ago, around April 2011, I wrote a Windows Phone app called lil todo. How's it doing today?
Before we get to the numbers, some context is useful. lil todo was written for fun and a bit of necessity. I had a Windows Phone and was curious to learn how to write an app for it. I also found there weren't any good GTD-style to-do apps in the market for the platform, so I wrote my own.
It wasn't written to make money (it's free!), so I didn't do any marketing. It's been updated a couple of times to fix bugs or add minor features, but for the most part the app you download today is the same one released two years ago. In summary, it's a neat little app that most people have never heard of, unless they do a search in the Marketplace for it.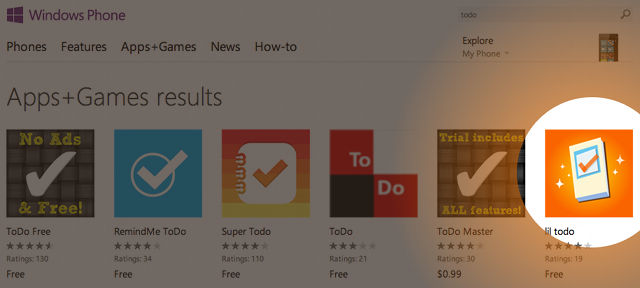 With that out of the way, how popular is the app? Two weeks after release, the app was downloaded 218 times. One month after release, the app was downloaded 342 times. For the first few months, the average daily download was around 5-10. After a year, the downloads eventually plateaued to around 2-3 a day. After one year in the market, the app was downloaded about 1400 times.
Let's skip ahead to two years. Here's what we see today: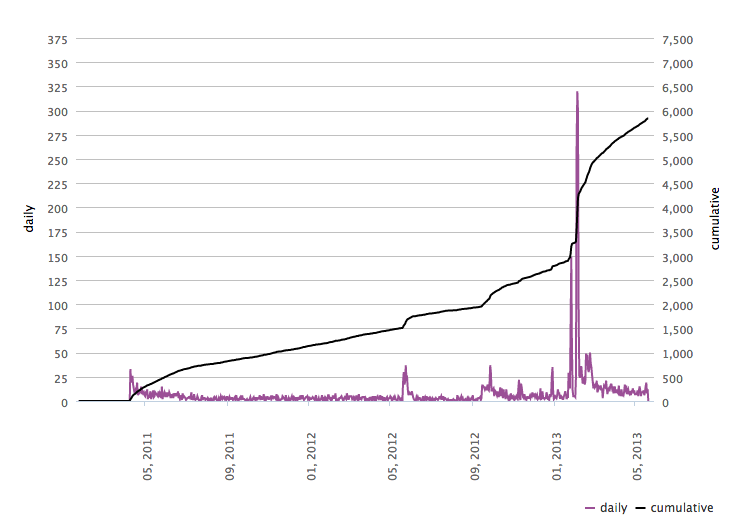 There are a lot of interesting things going on in this graph:
Today, the app has been downloaded over 5800 times.
The cumulative downloads slope is getting steeper. Today the app is downloaded roughly 10 times a day.
Each change in slope is preceded by a spike in daily downloads. I suspect these are when either a new phone is released or the platform is made available to new markets.
There was a huge spike in downloads in February, 2013. What the heck happened then? (A major new market was added? Bad data?)
Not on the graph: Total number of reviews for the US market is 19. That's pretty low in comparison to a lot of other, more popular to-do apps.
Not on the graph: Total US downloads: 1500. Total India downloads: 1400. That means about half the downloads are coming from the US and Indian markets. The next biggest downloads are from Germany, Colombia, Chile, and Finland (around 300, 260, 230, and 230, respectively).
So there you have it. Even an app that was never localized to non-English locales and is barely updated is still getting downloads.